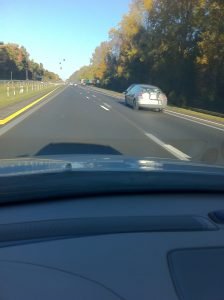 Something weird happens when we plan for traveling

You know how they say:
"See this. Do that. Eat here. Don't miss this. Don't miss that. You gotta . . . you gotta . . you gotta . . . ."
Whew! Sounds exhausting! For me.
Maybe you're not feeling that. Or maybe you're feeling energized by that.
Well that's the difference between you and me.
We all have a different travel style.
Consider your travel style and tune in
Travel style? Yeah. Travel style.
Me, I used to do all that. All that running around.
There was some sort of inner pressure. To "do it all!" To be "The Smart Traveler!" Instead, it made me The Frustrated Traveler. The Tired Traveler. The Angry Traveler.
No quotes there. Because they're what I really was feeling. Not what I was "supposed" to be feeling.
And then one day I told myself, "You know—I'm going to do what I WANT to do."
Not what I SHOULD do. Not what the travel guru books told me I "needed" to do or what I "must" not miss!
I figured my style of travel was different than the people who wrote all those books, all those articles. My travel style was more "slow and exploring the unique."
Learning to tune in

Instead, I had to tune into my intuition and go for what really felt like me. In my gut.
What pulled me to it. What said "Whoa! THIS is something I gotta do!"
See the difference? Hear the difference? I can tell you this: when you're in it, you'll know the difference.
But seeing and feeling what your gut is calling out to do can sometimes be hard.
It IS hard.
To listen. Really listen to your gut. To really listen to your Inner Longing. To pay attention to what your heart is calling you to do.
We live in this society that doesn't want us to be quiet. Or to listen. Or to hear.
It's all go, go, go.
Sometimes we don't even feel an inner longing. There's nothing there to put a finger on. But it 's there. I can assure you.
How do you hear your Inner Longing?
Here's my answer to that question: What if you tossed aside all that "must see, must do" stuff?
And instead you thought:
So what if tulips are "the thing" in Holland. I might instead want to seek out that amazing craftsman who makes clay drums I just heard about.
Or in London, is the Tower really a must? Ehhhh–no. Not for me. I'd really rather explore Bloomsbury where Virginia Woolf, T.S. Eliot and all the avante-garde writers hung out.
And in Asheville–the Big House is a must! Don't get me wrong. I love it. I think people really should see it (ooops, there's that word "should").
But, me, I'd rather spend that time poking into the Foodie Scene (in a knowledgeable way, not some random "gotta eat here" for-every-meal way). Or meandering through town looking at, appreciating, the architecture. And visiting the coolest craftsmen in the countryside.
And at Hilton Head, of course the beach is there for me.
But so are amazing guided beach walks, where I can learn about the plants that save the sand. And, oh, the eclectic food choices! For every meal. Every day. And a mysterious African-infused local culture.
The results sound like this:
"THAT'S what turns me on! THAT'S what Lights My Fire. That's what I really want to do" [head nod].
And you know what? It saves a TON of time. Not to mention saving on aggravation, pressure and overwhelm.
Here's the thing. You know better. You really do.

You've got a limited amount of time for your vacation.
But rushing around like a crazy person trying to get everywhere and do everything that's the latest "must see, must do" thing can leave you needing a vacation when you get home from your vacation.
I know you've been there. I sure have.
So what can you do instead?
Know yourself. And that takes guts.
Knowing your travel purpose, your travel "sparks,"  your travel GLOW. That's often a challenge.
I sooooo get that.
But . . . the Travel "shoulds" can be exhausting.
It's your Travel GLOW that excites you down to your inner being!
What gets YOUR Travel GLOW going?
What have you done that rebels against the travel gurus' advice yet you've come away far better for it?
Think about that some. And let me know. I'd love to hear.