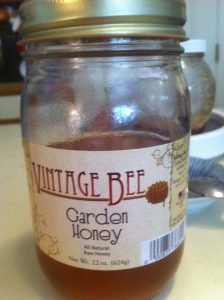 We have an awesome gift
And most of us are lucky enough to be able to take advantage of it. It's choice. And almost all of us can say, "every morning I have a choice."
Am I going to grab my reusable bags and go to the weekend tailgate market? To buy fresh local vegetables, eggs, honey and maybe plants for my yard.
Or am I going to the super-duper grocery store to buy fruits and vegetables from who-knows-where with who-knows-what-kind of water and soil quality used to grow them?
(Have you read the water quality reports from farms in South America? Air quality reports from China? Don't.)
I'm lucky enough to live where there are lots of locally owned coffee shops and a few tea houses. Nice places to go to grab a bite or a cup, sit and do a bit of work. Plus I'm getting to know the owners and I'm glad my money goes into their pockets.
Local money stays local
Did you know that many more cents of every dollar spent at a locally owned business stays in your town compared to the amount of money spent at a chain business.
The research firm Civic Economics did a study on the topic and found this fact: "On average, 48 percent of each purchase at local independent businesses was recirculated locally, compared to less than 14 percent of purchases at chain stores."
In North Carolina, Raleigh to be specific, it's even more striking. Seems like 51.1% of money spent in Raleigh is recirculated locally, compared to only 13.6% of money that is recirculated locally when it's spent at a chain store there.
That's a big difference–3.5% more stays local in Raleigh than the overall average.
And that's amazing.
And that's just one reason I invite you to become an expert in your own city, region, neighborhood.
It's incredible
The effort, blood-sweat-and-tears, not to mention money, that it takes someone to put together a real brick and mortar place of interest in this day and time is remarkable.
It used to be the norm, the overwhelming way of the world for centuries, up until as recently as 40 years ago. There was a mom and pop store on every corner and downtowns were filled with them.
But not now. "Efficiency" has taken its place.
I say "Bring it back."
Where is your support?
We thrive, truly thrive, personally, locally and regionally when we support our neighbors. You know–love thy neighbor. You've heard that one before.
It's still true now. Now that almost all the things we buy are produced off-shore and corporations based in the US for decades are moving overseas.
Do you really want your money going to corporate heads you'll never see. To support sweat shops in foreign lands.
This goes beyond politics—it speaks to our health, both literally and figuratively. Physically and economically.
What's most important for the health of the world, and especially our own little microcosm in the world, is for us all to support our local economy.
These are our neighbors. You stand in line next to them at the grocery store, the movie theater, the drug store, the coffee shop. So do I. I smile at them. I do.
Let's start this movement to Bring it Back!
Bring back the love. The local love.
Support these mom and pop businesses. They're called microbusinesses now.
Support your local treasures.
Support them by becoming a client or customer. By telling your friends. And beyond.
Where I live this is getting to be big. Popular. Amongst a certain set.
In Asheville it's the Asheville Grown "Love Asheville, Go Local" campaign. In Durham it's "Sustain-a-Bull: Shop Independent Durham." (the Bull Durham bull is Durham, NC's mascot and logo)
But first you have to identify them, these local treasures.
[More on that below.]
But know this: We can make this a better world.  Person by person. Person to person. Person supporting persons.
Smile. And discover. And begin to change the world. By beginning to change our world. Each and every one of us.
This morning, and every morning we have a choice. And a voice.
Make yours heard.
"And in the end. The love you take is equal to the love you make."
–Lennon and McCartney
Here at Insider Carolina, it's all I talk about, it's all I recommend–those cool and wonderful indy businesses. That's what I always recommend to my clients who want me to do itineraries for them.
If you don't already have it, you can find out about a ton of them in this First Step Insider Guide: 101 Not-to-Be Missed Insider Places, Spaces and Unique Things To Do in North Carolina and South Carolina. Download it here.